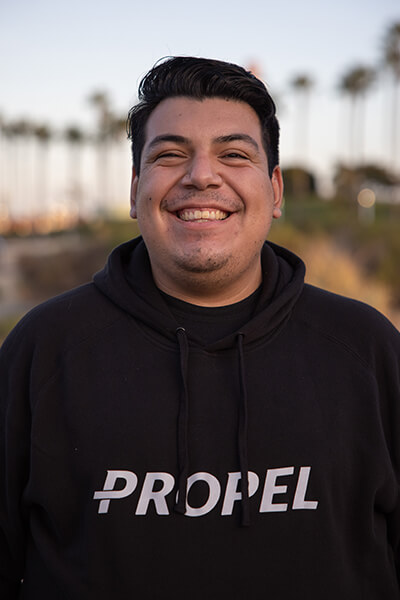 Hi, I'm Adrian
You can find me at our Long Beach store, where I love helping people learn more about electric bikes. A couple things you may notice while  working with me: I'm ambitious and am always striving to learn new things. I also consider myself a fun loving and energetic individual that finds great enjoyment in making sure your experience with Propel is not only informative, but fun, a worthy investment in your future.
My experience with bikes has evolved over the years, from when I learned how to ride as a kid, to riding BMX bikes and getting to work on bikes in high school, to today. I see the potential eBikes have to offer as effective (and fun) modes of transportation, and as a healthier and oftentimes more efficient alternative to driving a car. I recently bought an eBike of my own and am excited to start commuting. 
My Favorite Propel Memory:
Going out on a group ride through Long Beach with the whole team riding eBikes, then having lunch and chatting together afterwards.
Contact Info:
My Schedule:
Wed-Sun 9:30am-5:30pm PST
Call me at:
(646)-832-4003 ext 444
My Favorite Bike:
Bulls Urban Evo 10
How I can help you!
Taking a test ride with me is probably one of the most fun experiences you'll have while shopping for an eBike. I am extremely knowledgeable about Propel's catalogue of eBikes and accessories, and can help you find the perfect ride for all your needs.