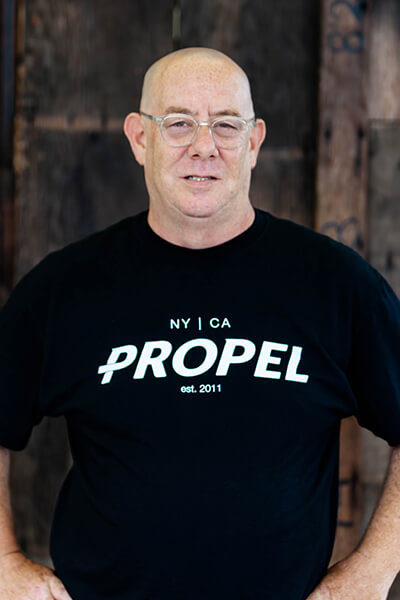 Hi, I'm Jeff
You can find me at our Brooklyn, NY location, where I love helping people . While I've always had a passion for inspiring people to get outdoors (I worked in the snowboard and skateboard industries for 20-plus years), transitioning to the electric bike industry was a no brainer. And from what I've seen so far, I truly believe that eBikes are changing peoples' lives—from families to seniors to those that want to spend less time in a car. For me, this has become more than just a job, it's an opportunity to change the way people move.
I'm an LA transplant, and am proud to call Red Hook Brooklyn my home for the past 12 years. When I'm not setting up customers with their perfect eBikes, I like to stay pretty active. You can usually find me out and about cycling, playing hockey or enjoying live music.
My Favorite Propel Memory:
Taking a mom and her three kids on a test ride with the Tern GSD S10 LX and hearing mom screaming down the bike path, "Stop wiggling!"
Contact Info:
My Schedule:
Mon-Wed & Fri-Sat 9:00am-5:00pm EST
Call me at:
(646)-832-4003 ext 022
My Favorite Bike:
Cannondale Canvas Neo 1
How I can help you!
As a Matchmaker, I can help you find the perfect eBike. I am extremely knowledgeable about our entire catalogue, and can provide an engaging, educational experience while we search for your perfect match.